Step IV: Wargaming
&

COA Analysis

For Best Results, Add Two Cups of Mayhem

Step 4: COA Analysis (Wargame)
Wargaming is like going to the dentist: it's something that you should routinely do, but you always find an excuse to avoid the discomfort. If done right, wargaming is not fun. It's painful and messy, but it's 100% necessary. Wargaming is how your team mitigates unforeseen friction points, adapts to chaos, and identifies refinements to optimize each COA. We have yet to meet a plan that wargaming did not improve.
The Army's adage of "no plan survives first contact with the enemy" holds true because the real world always gets a vote on determining a COA's outcome. Think of wargaming like smoking ribs for a summer BBQ: the more time you dedicate to the process, the better the final product will be. Sure, you can prep ribs, smoke them, and apply some sauce that you bought at a gas station in under an hour. Just know that the hosts of the neighborhood's 4th of July party will ask you to bring paper plates and tinfoil next year. That said, both hastily prepared ribs and abbreviated wargaming are better than nothing at all.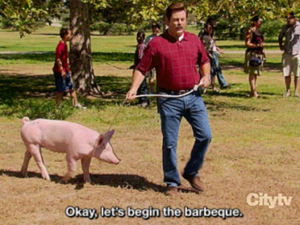 How the Army Does It
Our memories of wargaming consist of huddling around a map in a musty tent at 2AM while discussing a our action, the bad guy's reaction, and our counteraction. Some poor soul vigilantly manned a dry erase board and recorded every destroyed vehicle, overrun command post, and various other unpleasant situations. Hour after soul-crushing hour, we poked holes in our COAs and refined them accordingly. Then, like miners emerging from a West Virginia coal shaft, we'd exit the tent into the early morning sun with a solid understanding of each COA's strengths and weaknesses. 
Regardless of wargame's scale, it will always have the same goals: 
Create shared understanding for each COA. 

Refine and develop new decision points. 

Identify and mitigate risks. 

Refine each COA until it's acceptable, feasible, suitable, and distinguishable (see previous article for more information).  
Wargaming breaks down to the following steps (as defined in Field Manual 5-0: Planning and Orders Production [May 2022]):
1. Gather the Tools 

Example= White boards, data, running estimates, maps, formats, and subject matter experts (yes, you will need actual smart people to properly wargame).

2. List Friendly Forces and Their Proposed Task and Purpose

Friendly forces = any organization involved with the success of each COA (i.e., the people on your team).

3. List Assumptions 

Assumptions = things that you believe are true but will change the COA if you determine them to be false (use the list you defined during MDMP Step II).

4. List Decision Points and Critical Events 

Decision Points = "a point in time during which a staff or leader anticipates making a key decision concerning a specific COA" (FM 5-0, pg. 1-7). 

Critical Events = "an event that directly influences mission accomplishment" (FM 5-0. pg. 5-8).

5. Select Wargaming Method 

Amount of time and the process your team will use to evaluate either a portion or an entire COA.

6. Select a Technique to Record and Display Results.

 Select the best format that captures information such as data that influences COA selection, changes to decision points, defining information requirements to make those decisions, and any other necessary updates.

7. Conduct the Wargame. 

Drink water, put on your safety belt, and drop the hammer.

8. Use Results to Adjust COAs.

Update the COAs to address the necessary changes identified during the wargame.
For brevity's sake, we'll concentrate on Step 4 and 5. We believe Decision Points (DPs) and a synchronization matrix (SYNCMAT) are the critical outputs of wargaming. These two mechanisms are the key ingredients to transition your plan into action. We'll first focus on DPs. Establishing effective DPs enable your leadership to understand the following:
How much time remains before they must make a decision.

Current information that will affect a decision.

The actual options from which they must choose. 
We don't need to list the consequences of failing to set the conditions for your boss to make timely and informed decisions.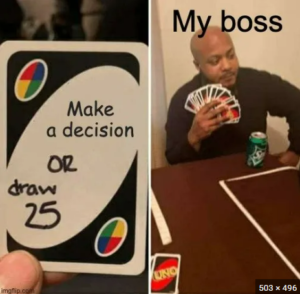 Decision Points and Synchronization Matrices
Plotting DPs in a timeline helps your team tailor your plan to gather the information your leadership needs to make good decisions. Further, effectively timing DPs enables your leadership to prioritize other efforts and ensure they are at the right place at the right time to make the best choice. To this end, the Army uses what is called a "Decision Support Matrix (DSM)." A DSM looks like this:

For additional context, let us revisit our heroes in Alpha Company while they plan to establish a blocking position at Checkpoint 2A. Their DSM could look like this:

Regarding SYNCMATs, the Army defines synchronization as "The arrangement of military actions in time, space, and purpose to produce maximum relative combat power at a decisive place and time" (FM 5-0, pg. Glossary-11). To spare you all a painful avalanche of Army acronyms, we've transitioned the example SYNCHMAT found on pages 5-46 of FM 5-0 to the following benign version with general definitions.
Time, Event or Phase

Initial Set (where everyone is at the plan's start)

Turn 1 of Wargame

Turn 2 of Wargame

H-Hour (when the plan begins)

Time or Day When the 1

st

Turn of the Wargame begins

Time or Day When the 2

nd

Turn of the Wargame begins

Portions of Step

Action (What friendly forces do)

Reaction

(How the enemy tries to disrupt plan)

Counteraction

(How friendly forces neutralize the enemy's disruption)

Action

Reaction

Counter-action

Action

Reaction

Counter-action

Friendly Force #1

Friendly Force #2

Friendly Force #3

Decision Points

What questions must you answer to support DPs and who is the lead for the answer?

Risks to Mission

Updates to COA and task owner
Let's review Alpha Company's SYNCMAT as they prepare to establish their blocking position. This example focuses on how they plan to cross Bridge 1B.
Time, Event or Phase

PH II (Bridge Crossing)

0500

Portions of Step

Action 

Enemy Reaction

Counteraction

1

st

Platoon

Cross bridge and orient north

Wait for second platoon to cross

Orient two tanks on vegetation to identify potential ambush; clear with thermal optics

2

nd

Platoon

Cross bridge and orient south

Conduct anti-tank missile ambush

Do not cross until 1

st

platoon clears vegetation with thermal optics

3

rd

Platoon

Pass through 1

st

and second PLTs and secure hill on far side

Break contact as quickly as possible

Clear backside of vegetation before moving to hill

Decision Points

Decision Point #1 (see DSM)

What questions must you answer to support DPs and who is the lead for the answer?

Results of the scout platoon's bridge assessment.

Is the bridge damaged?

Did the enemy emplace any anti-tank mines?

Does the bridge's structural integrity hold after tanks begin to cross?

Risks to Mission

Anti-tank ambush

Bridge crossing

Updates to COA and task owner

1

st

Platoon clears vegetation before the second platoon crosses.
Conducting the Wargame
Now it's time to select a wargame method. The Army has three flavors of wargames:
Belt: Sequential events occurring within the entire width, or belt, of an area of operation.

Avenue in Depth: Beginning at the decisive point (thing that must occur or the mission fails) work towards the final objective along a specific sequence of events.

Box: Detailed analysis of a particular critical event.
After selecting the method and the number of rounds, we'd begin to run each COA through the wringer. Keep in mind that each "round" has a clear beginning and end point. Following kick off, the person in charge of leading the wargame managed the time and enforced the following process.
| | |
| --- | --- |
| 1. Sequence of Events | The things that are supposed to happen from the first event of this phase to its conclusion. |
| 2. Units and Assigned Tasks | What each supporting organization is doing during the phase. |
| 3. Expected Enemy Reactions and Friendly Counteractions | A staff member explains how the enemy will attempt to disrupt the plan; everyone else explains how they will respond and mitigate the impacts.  |
| 4. Decision points | Explain the DPs will occur during this phase and identify refinements or add more DPS if necessary. |
| 5. Information Requirements | Capture the information the leadership requires to make these decisions and annotate who is responsible for collecting it. |
| 6. Review Results | Ensure that you have captured all required updates before moving to the next step/phase. |
The Army uses many ways to evaluate wargaming outcomes and we don't have the time to cover them all during this discussion. The key consideration is to remain consistent with your evaluation and meticulously record refinements or required updates as you discover them. Also, be patient. Even the best staffs struggle with wargaming. Don't be surprised if your first attempt at wargaming appears to be more of a disaster than a helpful process. Know that your team will become more proficient over time and even a few identified refinements are worth the time you are investing in this process. 
What We Learned
| | |
| --- | --- |
| Good Ideas | Bad Ideas |
| Always wargame your COAs even if you only have 20 minutes to do so. A little bit of wargaming can make a huge difference.  | Spin The Black Wheel of Fate and move directly to the next MDMP step.  |
| Appoint a person who serves as the wargame's lead from beginning to end.  | Change leaders during each phase of COA transition. Trust us on this one: it never ends well.  |
| Establish a time limit for each step or phase and appoint a timekeeper to enforce it. This person gives ten and five-minute warnings before telling the group to move to the next phase.  | Embrace Jimmy Buffett's "Island Time" concept and learn what a sunrise looks like from your office window while your team has yet to finish your first COA.  |
| Ruthlessly record every required update, assign task owners and a suspense, and verify your team implements the changes.  | Fill two whiteboards with solid gold, call it a day, and return to the office the next morning only to learn that your janitorial staff is really good at cleaning whiteboards thus sending hours of work into the void.  |
| Have thick skin and know that people are supposed to poke holes and criticize each plan.  | Jealousy defend "your" plan like a mama bear. Take every remark personally, call your coworkers Philistines, storm out of the office, and eat your feelings at Dairy Queen.  |
| Do not begin until you have the right people in the room who can intelligently speak to the capabilities and limitations of their organizations.  | Announce, "You wargame with the team you have not the one you need. Wings play the Avs tonight so let's get this thing over as quickly as possible." |
How You Can Use It.
As mentioned, manage your expectations the first time your team attempts wargaming. If you all walk away with slightly better COAs than with what you started, chalk your initial wargaming experience up as a win. Remember that with wargaming, you are looking for progress, not perfection.
With respect to the "enemy's reaction," identify someone on your staff to inject random events of mayhem (snowstorm closes the dealership, your parts department runs out of alternators, etc.). This Agent of Mayhem's job is to cause chaos and expose unknown risks within each one of your COAs. Once you've identified Dr. Doom, walk through each COA from start to finish. When Dr. Doom rains sorrow and discord, force your team to react and manage the situation. Bad things will always happen but they often choose not to stick around with the appropriate mitigation plans in place.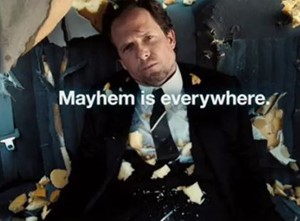 We also recommend that you tailor the SYNCMAT format to fit your needs, broadcast it with a projector, and fill the rows and columns in real time]. After you conclude your wargaming session, you will have a digital product with the latest available information that you can instantly distribute to your team. Clearly, you will replace "enemy reaction" with verbiage that describes an element of risk present in every step (competing businesses, supply chain issues, etc.). Label this column as "risk" or "challenges" to help your team constantly weave redundancy into your plan. 
A good and simple rule of thumb is to strive to find three strengths and three weaknesses for each COA. If multiple COAs have the same risk, you might be overlooking a key task or failing to reduce a fundamental risk. Remember, wargaming is your chance to deal with imaginary challenges so you don't have to deal with real-world catastrophes.
Wrap Up
If you walk away with one note from this discussion, please remember that even a slight amount of wargaming will improve a plan. For instance, consider if an engineer asked, "Wait a minute. What happens if we hit an iceberg? Might be a bad day guys." while building the R.M.S. Titanic. That simple question could have prompted someone to develop a revolutionary mitigation strategy such as having enough lifeboats for the passengers. Instead, the Titantic was able to find out what the floor of the Atlantic Ocean felt like.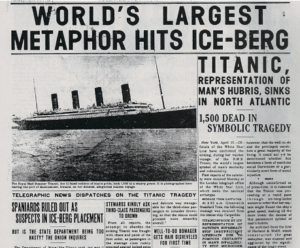 Also, know that your first stab at wargaming is not going to be pretty. Please leverage our lessons learned and know that even the most chaotic and unorganized sessions will improve the quality of your plans. Your team will get better at wargaming over time, but they must first make a habit of analyzing their potential solutions during planning sessions. Remember that Mark McGwire played tee-ball before he broke the MLB's home run record. Yes, questionable performance enhancing drugs coursed through his enormous biceps, but you get the point.
In closing, remember two words: patience and refinement. Be patient with wargaming. Although you feel as if you jumped off the high dive of serenity, tucked yourself into a cannon ball, and splashed into a pool of anarchy, your team and leadership will reap the benefits of refined plans during game time. 
Tune in next time when we will move beyond the frayed nerves and chaos of wargaming and move back to the organized land of evaluating your plans. As always, please don't hesitate to reach out to us with any questions. We're here to help.
If you want to go further down the wargaming wormhole, access the links below:
https://usacac.army.mil/sites/default/files/publications/20-06.pdf
https://armypubs.army.mil/epubs/DR_pubs/DR_a/ARN18126-ADP_5-0-000-WEB-3.pdf 
Recommend skipping to pages 5-36 to 5-53 for material directly related to wargaming.
https://www.youtube.com/watch?v=fgzolTq0ez8 
https://smallwarsjournal.com/jrnl/art/wargaming-courses-of-action-during-other-than-major-combat-operations U4).
Want to learn how Auto Labs can take your team's performance to the next level?
Subscribe to our Newsletter
Get tips and tricks to create efficiency and drive revenue for your dealership.